Welcome to Ok Engineers as one of the professional managed entities engaged in Manufacturer and exporter of Brass Turning parts like Cable glands for electrical & Wiring industry, Lamp parts, Automotive components, Brass Insert for moulding industry, Brass plumbing fitting, Brass hydraulic and pneumatic fitting for sanitary ware industries, Brass precision components for hi-tech application as per drawing and samples. 
Due to interest in modern manufacturing technology, Quality accuracy measuring and testing equipment and R & D Facility company has successfully developed precision Turning components, Electrical components, Brass lamp parts, wiring accessories etc. many more.  Our main aim is to deliver customer friendly and reliable services. We supplying our brass products all our India as well as offshore regions likes USA, UK, Germany, France Europe, middle-east and Spain.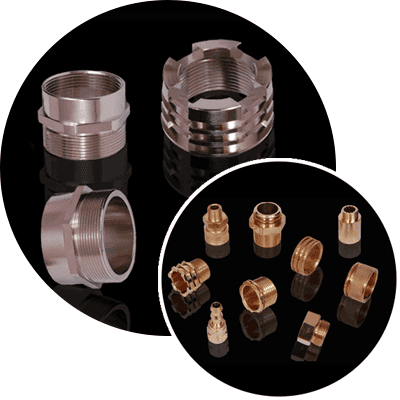 O. K Engineers is available to new thoughts, idea and most latest advancements in manufacturing facilities. By fusing these most recent patterns we attempt to offer a progressive and Creative scope of efficient products and prevalent services. As we are one of the reputable and famous organizations it has been our proverb to shape solid and continuing association with each and every client.
Following are a portion of the reason which makes us a favored brand in the market :